UK/GH 2015 | 95 Min. | DCP | OmU | Drama | DE New British & Irish Cinema
A series of misfortunes lead a West African village to accuse a young girl, Asabi, of witchcraft. Their Pastor insists that salvation lies in her exorcism and death, using his compelling rhetoric to incite fear into the people and turn Asabi's mother against her own daughter. Disillusioned reporter Godwin finds himself swept up in the witch hunt. With the help of a young school teacher, he attempts to save Asabi's life, fighting back against corruption and false prophets. Based on true events, "The Cursed Ones" is a story of morality, corruption, and community in the heart of Africa.
 
Director: Nana Obiri Yeboah
Script: Maximilian Claussen
Photographer: Nicholas K. Lory
Editor: Josh Levinsky
Music: Benjamin Wright
Cast: Oris Erhuero, Jimmy Jean-Louis, Ama K. Abebrese, Fred Nii Amugi, David Dontoh
Production company: Zissou Pictures
Producer: Nicholas K. Lory

Watch Trailer
Share
Nana Obiri Yeboah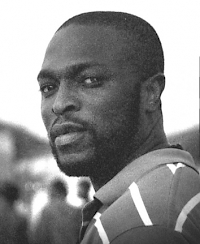 geboren 1979 in Accra, Ghana, schrieb bereits mit 14 Jahren sein erstes Theaterstück, das er in der Kirche seines Heimatsortes selbst inszenierte. Er studierte Film am SAE Institute London und drehte zahlreiche Kurzfilme, bevor er mit "The Cursed Ones" seinen ersten Langfilm inszenierte, der bereits mit einem Award of Excellence auf dem Canada International Film Festival und mit zwei Screen Nation UK Awards ausgezeichnet wurde.
Filmography: The Cursed Ones (2016), Nana Means King (2015), Mercy (2011)