TUN/F/B/D/S 2020 | 104 Min. | DCP | DF In memory to Bernhard Wicki
To be able to travel to Europe and find the love of his life, Sam Ali, a Syrian refugee, accepts to have his back tattooed by one of the most sulfurous contemporary artist; becoming that way a precious work of art.
Director: Kaouther Ben Hania
Script: Kaouther Ben Hania
Photographer: Christopher Aoun
Editor: Marie-Hélène Dozo
Music: Amine Bouhafa
Cast: Yahya Mahayni, Dea Liane, Koen De Bouw, Monica Bellucci, Saad Lostan
: Simon Ofenloch
Production company: Tanit Films
Producer: Annabella Nezri
Distributor: Eksystent Distribution

Watch Trailer
Share
Kaouther Ben Hania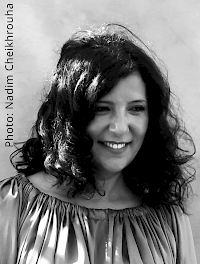 KAOUTHER BEN HANIA (*1977 in Sidi Bouzid in Zentraltunesien) studierte Film in Tunesien und Filmdramaturgie an der Sorbonne in Paris. Mit "Le challat de Tunis" gab sie 2012 ihr Spielfilmdebüt, ihr zweiter Spielfilm "La belle et la meute" feierte 2017 Premiere in der Reihe Un Certain Regard beim Filmfestival in Cannes. Für "Der Mann, der seine Haut verkaufte" wurde sie 2020 bei der Biennale in Venedig ausgezeichnet.
Filmography: (Auswahl): Der Mann, der seine Haut verkaufte (2020), La belle et la meute (2017), Zaineb Hates the Snow (2016), Le challat de Tunis (2012)
Screenings
10.10.21 | 20:20 h| CineStar 5, Emden
13.10.21 | 19:20 h| CineStar 5, Emden