D 2016 | 102 Min. | DCP | DF | Drama New German Films
"24 Weeks" tells the story of cabaret performer Astrid, who six months pregnant learns that her unborn child will be severely disabled. She and her husband Markus have a choice, but little time… Astrid now feels lost, on her own, impossible to continue her comedy routine. Ultimately only she who is bearing the child can take this weighty decision. What will she do? Who decides whether the child will have a life worth living?
Director: Anne Zohra Berrached
Script: Carl Gerber, Anne Zohra Berrached
Photographer: Friede Clausz
Editor: Denys Darahan (Montage)
Music: Jasmin Reuter
Cast: Julia Jentsch, Bjarne Mädel, Johanna Gastdorf, Emilia Pieske
Production company: zero one film
Co-Production: ZDF – Das kleine Fernsehspiel, Filmakademie Baden-Württemberg
Producer: Thomas Kufus, Melanie Berke, Tobias Büchner
Distributor: Neue Visionen Filmverleih

Watch Trailer
Share
Anne Zohra Berrached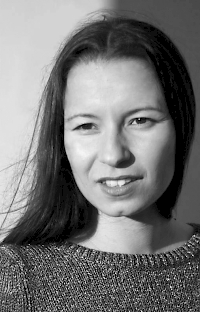 wurde in Erfurt geboren. Sie war als Theaterpädagogin in London tätig, bevor sie in Berlin als Regieassistentin arbeitete. Ab 2009 studierte sie Regie an der Filmakademie Baden-Württemberg. Ihr im zweiten Studienjahr entstandener Film "Heilige und Hure" wurde auf mehr als 80 Filmfestivals weltweit gezeigt. Bereits im  dritten Studienjahr entstand ihr erster Kinospielfilm "Zwei Mütter", der 2013 bei der  Berlinale seine Welturaufführung feierte und den "First Steps No Fear Award" erhielt sowie den "Dialogues en Perspective"-Preis der Berlinale Sektion "Perspektive Deutsches Kino". "24 Wochen" ist ihr zweiter Spielfilm.
Filmography: 24 Wochen (2016), Zwei Mütter (2013)