D 2015 | 92 Min. | DCP | DF | Drama | Coming-of-Age New German Films
SCORE Bernhard Wicki Award
NDR Newcomer Award
The setting is 1982 in a provincial town in Lower Saxony. Hubertus and Sebastian never want to be like their fathers. These unlikely friends bond over their shared love of rockabilly music and their common infatuation with local punk girl Debbie. When a famous rockabilly band announces that they are looking for an opening band for their tour, Hubertus and Sebastian see their chance to leave all their problems behind them.
Director: Till Müller-Edenborn
Script: Till Müller-Edenborn, Jörg Bruhn
Photographer: Sönke Hansen
Editor: Sebastian Thümler
Music: Hans Heyne, Rockabilly Riot, The Wild Black Jets
Cast: Ruby O. Fee, Sebastian Tiede, Ben Münchow, Margarita Broich, Hendrik Duryn, Martin Feifel, Alexander Hauff
: Frank Tönsmann (WDR)
Production company: Neue Mira Filmproduktion
Co-Production: WDR
Producer: Elke Peters
Distributor: farbfilm verleih

Watch Trailer
Share
Till Müller-Edenborn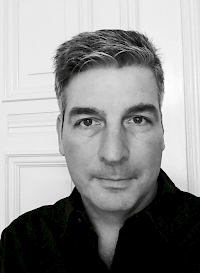 geboren 1965 in Karlsruhe, studierte Filmwissenschaften, Philosophie und Französisch in Paris und Köln. Neben diversen Kurzfilmen inszenierte er zahlreiche Folgen der TV-Serien "Gute Zeiten, schlechte Zeiten" und "Schloss Einstein". Mit "Rockabilly Requiem" gibt er seinen Einstand als Spielfilmregisseur.
Filmography: Rockabilly Requiem (2015), Soko München (2015), Soko 5113 (2014), Gute Zeiten, schlechte Zeiten (2010), Schloss Einstein (2008)