D/UK/A 2021 | 89 Min. | DCP | DF New German Films
"Dear Future Children" follows activists on the protests in Hong Kong against the Beijing-influenced administration under Carrie Lam, the protests in Chile against social inequality in the country and in Uganda at the local Fridays for Future protests and actions for climate justice.
Director: Franz Böhm
Script: Franz Böhm
Photographer: Friedemann Leis
Editor: Daniela Schramm Moura
Music: Leonard Küßner, Hannes Bieber
Cast: Protagonisten/Protagonists: Pepper, Hilda, Rayen
Production company: Nightrunner Productions, Schubert Film
Producer: Ansgar Wörner, Johannes Schubert
Distributor: Camino Filmverleih
World Sales: Magnetfilm

Watch Trailer
Share
Franz Böhm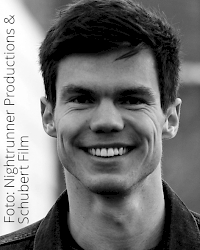 FRANZ BÖHM (*1999) drehte nach ersten Erfahrungen als Set-Runner bereits mit 16 Jahren seinen ersten Kurzfilm "Harmonie der Anderen". Für sein über Crowdfunding-finanziertes, dokumentarisches Filmprojekt "Christmas Wishes" reiste er nach Berlin und tauchte dort in das Leben junger Obdachloser ein. "Dear Future Children" wurde u.a. beim Filmfestival Max Ophüls Preis mit dem Publikumspreis in der Kategorie "Dokumentarfilm" ausgezeichnet und gewann den Publikumspreis beim Internationalen Filmfestival und Forum für Menschenrechte in Genf. Franz Böhm ist Mitglied im Bundesverband Filmregie. 
 
Filmography: Dear Future Children (2021), Good Luck (2019, Kurzfilm), Christmas Wishes (2017), Harmonie der Anderen (2015, Kurzfilm)
Screenings
07.10.21 | 21:10 h| vhs Forum, Emden
09.10.21 | 16:00 h| Conversationshaus, Norderney
10.10.21 | 15:50 h| CineStar 5, Emden